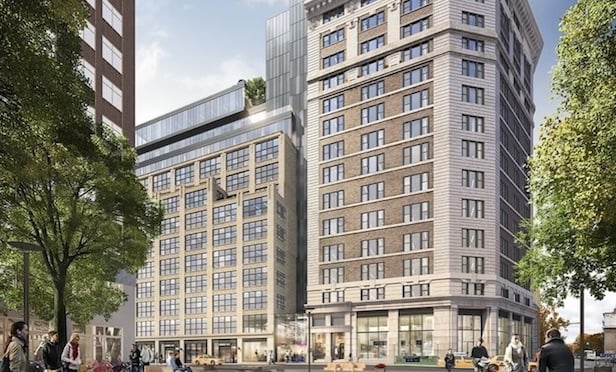 NEW YORK CITY—After merging with CVS, Aetna changed its plans and decided it would not move its corporate headquarters from Hartford to New York City. However, Aetna is now consolidating its New York offices from 100 Park Ave. and 1333 Broadway to One SoHo Square, as reported in The Real Deal.
TJ Crawford, Aetna's executive director, media relations, provided the following statement to GlobeSt.com:
"We are combining some existing New York City locations into one updated space, and as a result have signed a lease at One Soho Square.  This will not impact employee headcount in the area; in fact, we expect job growth in the businesses that will be located in the new space, which we expect to occupy in the first quarter of 2019."
The Real Deal had noted that Aetna's rent at Stellar Management's One SoHo Square would start at $84 per square foot for the 12th through 14th floors and begin at $112 per square foot on the 15th floor. Commercial Observer reported that the rent was more than $100 per square foot for the 106,000 square-foot lease. The building has an alternate address of 161 Sixth Ave.
The Real Deal also reported that Aetna was paying $130 per square foot for the building at 61 Ninth Ave., which it leased from Aurora Capital Associates and Vornado Realty Trust. GlobeSt.com had reported that in June 2017, Aetna had originally announced it would relocate its corporate headquarters to the 145,000 square-foot property under construction in the Meatpacking District.
Tax incentives were part of the deal. New York State had offered the insurance company $24 million in performance-based tax credits over 10 years. New York City had offered $9.6 million in incentives. But after CVS's acquisition of Aetna for $69 million in December 2017, the relocation was called off.
After Aetna's Big Apple about-face, an Empire State Development spokesperson told GlobeSt.com that because the incentives are performance-based, the state had no reason to cancel them. Aetna just would not receive any tax credits for job and investment thresholds they would not be meeting. As for the city incentives, a New York City Economic Development Corporation spokesperson told GlobeSt.com they would not be going forward with Aetna's proposed assistance package.