Tough as it is to believe, Sanlitun Soho is becoming a promising hub for eats from all over the world. The complex's ramshackle, fixer upper corridors are by no means overrun by quality restaurants – quite the opposite, in fact – and yet recent months have seen the Soho welcome Hawaiian eats at Poke Inn and the even more successful Pachakutiq.
This time we're venturing just around the corner from that latter Peruvian joint to try the Nigerian fare at Andy's Restaurant & Bar. From the menu to the decor, it's a straightforward but satisfying spot for meaty, flavorful soups and stews.
We tried the egusi with ukazi (pictured above), a comforting vegetable soup to which either beef or lamb is added and served alongside a piece spongy garri (a West African staple made with fermented cassava root), purposefully bland so as to help temper the spiciness of the ukazi. The dish's beef proved tougher than those of us unaccustomed to Nigerian cuisine might expect, though not off-puttingly so, and we found that mixing it with its thick, curry-esque ukazi made the meat more satisfyingly tender and juicy, while also leaving it with a gently spicy kick. There's nothing elaborate about the dish overall, but its simplicity gives the vibe that we were being let in on some truly homestyle Nigerian hospitality.
Another highlight on the relatively short menu is the okuru soup, made with vegetables, goat meat, pumpkin leaves and garri or semo, a flour-based staple, on the side (RMB 70). There's also the Nigerian mainstay draw soup (RMB 70), a dish that hails from the African nation's southern region and served with an abundant mixture of okra, ogbono seeds, and bitter ewedu leaves, also with your choice of garri or semo.
Andy's menu also features RMB 50 fish pepper soup made with catfish and commonly referred to in Nigeria as "point and kill" thanks to the usual practice of patrons choosing which live fish they'd like from a big tank, a tradition that Andy's unfortunately isn't equipped to carry out – though we hope he someday will! The menu is rounded out with a spicy palm oil paste and cow thigh pepper soup (RMB 70), as well as a his heftiest item of all: goat head nkwobi (RMB 150), which boasts an entire goat head garnished with pointedly bitter utazi and onion.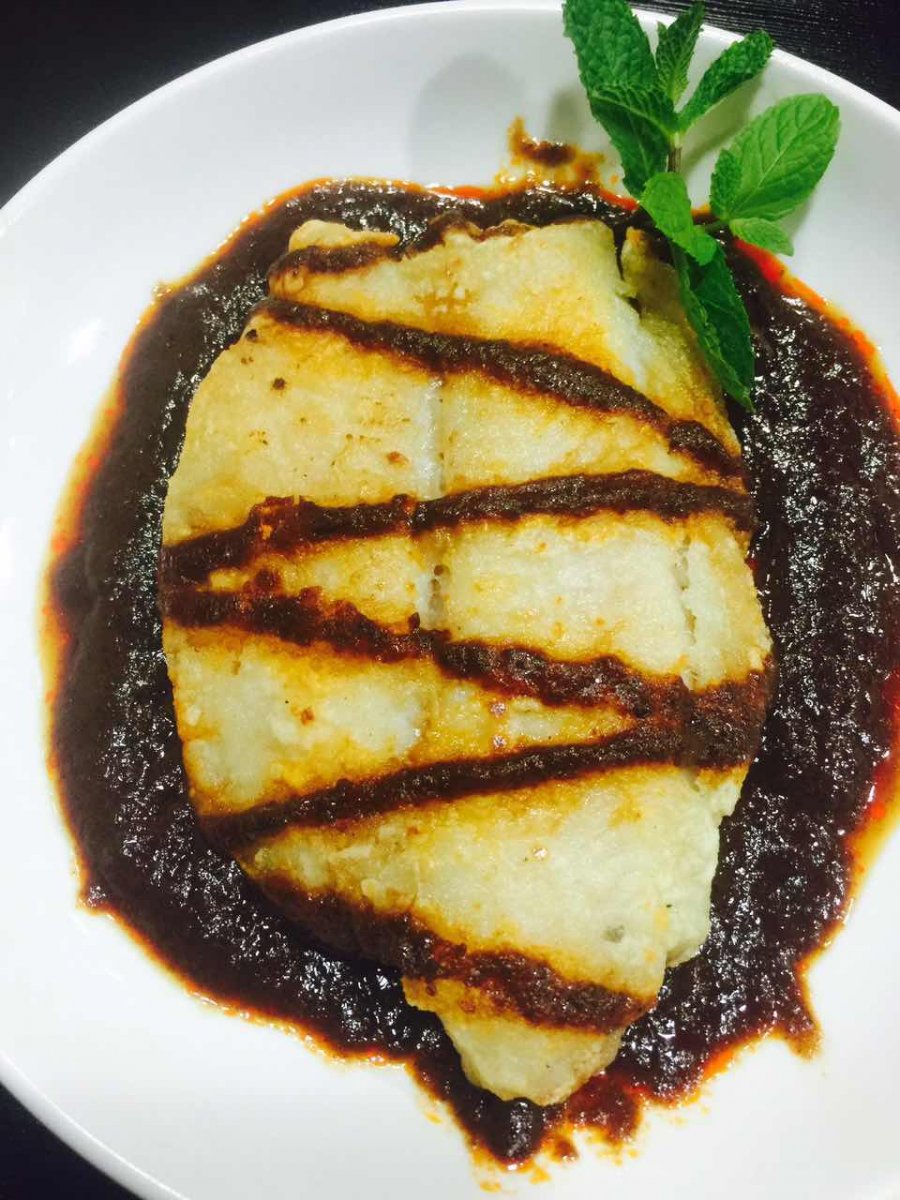 Standard cocktails like margaritas, negronis, Manhattans, and pina coladas are also on hand for RMB 40, along with whiskeys, gins, cognacs, and tequilas (prices ranging from RMB 480 per bottle to RMB 4,680 for the really top-shelf stuff, and a slight anomaly given the laidback vibe and cheapness of everything else). We would have liked to see a broader range of Nigerian beverages on offer to accompany the single African beer and African Malta (RMB 30 each) on the menu.
We can't complain about the overall simplicity of the space; comfortable leather chairs and wooden tables feel rather cookie cutter but the walls are dolled up with a few colorful Nigerian-style murals and a turntable in the corner courtesy of owner and DJ Andy, all of which makes the restaurant feel more akin to as if you were visiting the apartment of an old pal from Nigeria rather than an overly professional eatery. That's very much part of the charm though, making Andy's a friendly, inviting, and refreshingly unpretentious spot to sample a unique cuisine that Beijing is otherwise sorely lacking.
Andy's Restaurant & Bar
Daily 11am-midnight. B1-521, Bldg 5, Sanlitun Soho, 8 Dongsanhuan Beilu, Chaoyang District (135 2104 4632 or 185 1127 1611)
朝阳区东三环北路8号三里屯Soho5号楼B1-521
More stories by this author here.
Email: kylemullin@truerun.com
Twitter: @MulKyle
WeChat: 13263495040
Photos: Kyle Mullin, Andy's